Explore the dynamic intersection of innovation and practicality at The Service Innovation Corner (SINCO), the service prototyping laboratory located within the University of Lapland's Faculty of Arts and Design, Finland. Functionally divided into five categories, SINCO redefines service
To create a prototyping lab for service and interaction design at the University of Lapland, the lab was set up as a component of the co-naming SINCO project, funded by the European Regional Development. As a facility for service design practice, SINCO is a laboratory idea comprising an environment and a collection of equipment appropriate for service prototype and interaction design. The laboratory is a space that combines elements of a showroom, theater, craft studio, and a contemporary meeting room. It is a setting where you are empowered to take any action necessary to concretize and test experiences. SINCO provides tools for concretizing whole user experiences, in contrast to traditional mockup workshops often employed in industrial design.
The SINCO laboratory is functionally divided into five categories: Servicescape Simulation, Service Stage, Digital Touchpoint Toolkit, Rough Mock-up Crafting, and Teamwork & Documentation Tools.
SINCO allows for the speedy construction, testing, and development of service prototypes. The prototypes are quick and simple to construct and vary since they are heavily reliant on digital prototyping material, such as images, videos, and recorded sounds. This fosters the co-creational ethos of service design, where anybody may build on the ideas of others, and is perfect for hands-on service development, as new ideas are developed while testing current prototypes.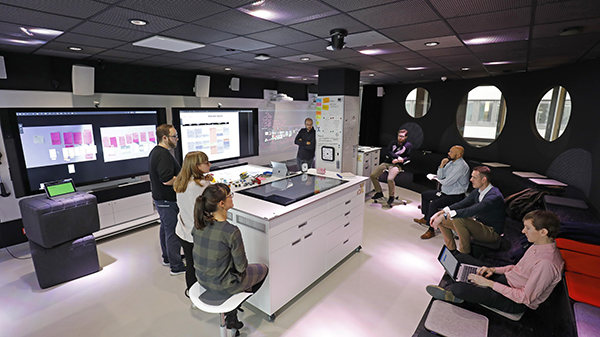 Because of SINCO laboratory's hands-on expertise with service prototypes, the client company's R&D employees are now more closely involved in service development. As a result, suggested customer experiences and service journeys provide greater context for assessing and inventing new solutions. Involving company employees in service prototyping by enacting, analyzing, or constructing service journeys has given them the ability to assess the service experience from the user's perspective rather than from an outsider's perspective.
SINCO has worked closely with the following companies on service prototypes: Lapin Kansa (local daily newspaper), Ranua Zoo (Lapland's wildlife park), and KL-Kopio (digital printing company). The close collaboration with companies has shown how service prototyping approaches and the SINCO laboratory were employed at various stages of the service design process, as well as how this improved design thinking in the companies.
https://skills2scale.eu/wp-content/uploads/2023/10/SINCO_panorama-1024x237-1.jpg
237
1024
tul_team
https://skills2scale.eu/wp-content/uploads/2023/06/S2S-logo-transparent-1.png
tul_team
2023-10-03 20:38:39
2023-10-03 20:39:25
SINCO accelerates the construction, testing, and development of service prototypes