Author: Michael Mandamadiotis
On Tuesday, 31st of October 2023, the second webinar of the Skills2Scale project on Beyond 5G Technology, Innovation and Entrepreneurship took place. This webinar was a part of a series of webinars that intend to enhance the capacity of academic staff, faculty members and administrative personnel of HEIs in fostering  institutional engagement and change in the field of Beyond 5G technology.
During this webinar, we explored how it is possible for a newcomer entrepreneur to exploit 5G and Beyond services to ignite innovation and create a successful business. Carlos Palau Salvador, an experienced professor of Universitat Politecnica di Valencia, the lead partner of the Skills2Scale consortium, was the first guest speaker. We had a very interesting discussion on the business potential of B5G technology, what services can be provided, real use cases, as well as potential barriers that block the adoption of 5G.
Following, Nick Vrionis, R&D Engineer of Infolysis, a successful Greek startup with more than 15 members personnel which exploits 5G to create chatbot apps, presented how their startup utilizes 5G to create value for their customers. With presence in the fields of retailing, marketing, tourism, education and maritime, Infolysis shows the way for commercializing 5G. However, the opportunities are not limited, since as Nick highlights, their research focuses on the development of new services and contribution to 5G/B5G use cases that are related to disaster recovery, smart cities, data interoperability, UAVs, training, Industry 4.0 and others. When it comes to B5G and data transfer, the use cases and the potential value are vast.
   Last speaker of the session was Maria Gabriella Anagnostopoulos, Chief Operating Officer of Envolve Entrepreneurship, partner of the Skills2Scale consortium and a business support organization that has been at the forefront of global entrepreneurial support since its establishment in 2012. Her input was valuable and focused on 5G and 6G Associations and Initiatives, such as the 5GPPP, NextG Alliance and others. Confirming Nick Vrionis, Maria answered to the question of a participant "As a startup supporter, what applications of 5G do you see in your field?" that B5G technology and the connectivity it provides can create services in various fields, while more and more use cases come up.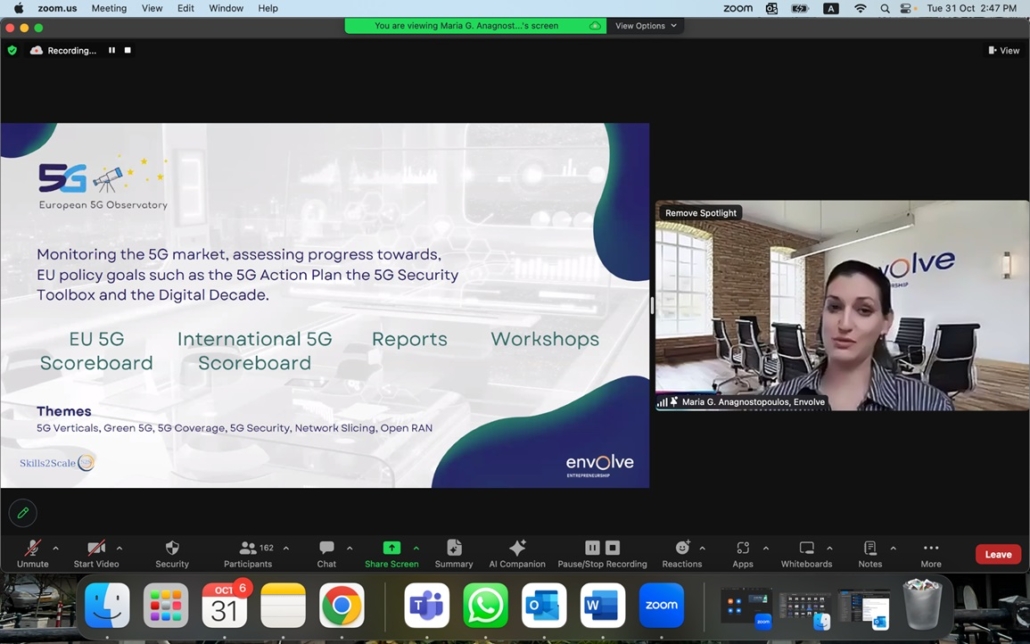 https://skills2scale.eu/wp-content/uploads/2023/06/S2S-logo-transparent-1.png
0
0
tul_team
https://skills2scale.eu/wp-content/uploads/2023/06/S2S-logo-transparent-1.png
tul_team
2023-11-07 20:05:03
2023-11-07 21:09:11
Skill2Scale Webinar on Beyond 5G Technology, Innovation and Entrepreneurship