NCSRD
Unmanned Aerial Vehicle Vertical Applications' Trials Leveraging Advanced 5G Facilities
5G!Drones, an EU H2020 Project, aimed to trial several Unmanned Aerial Vehicle (UAV) use-cases covering eMBB, URLLC, and mMTC 5G services, and validated 5G KPIs for supporting such challenging use-cases
The project drove the UAV verticals and 5G networks to a win-win position, on one hand by showing that 5G was able to guarantee UAV vertical KPIs, and on the other hand by demonstrating that 5G could support challenging use-cases that put pressure on network resources, such as low-latency and reliable communication, massive numbers of connections, and high bandwidth requirements, simultaneously. 5G!DRONES built on top of the 5G facilities provided by the ICT-17 projects and a number of support sites while identifying and developing the missing components to trial UAV use-cases.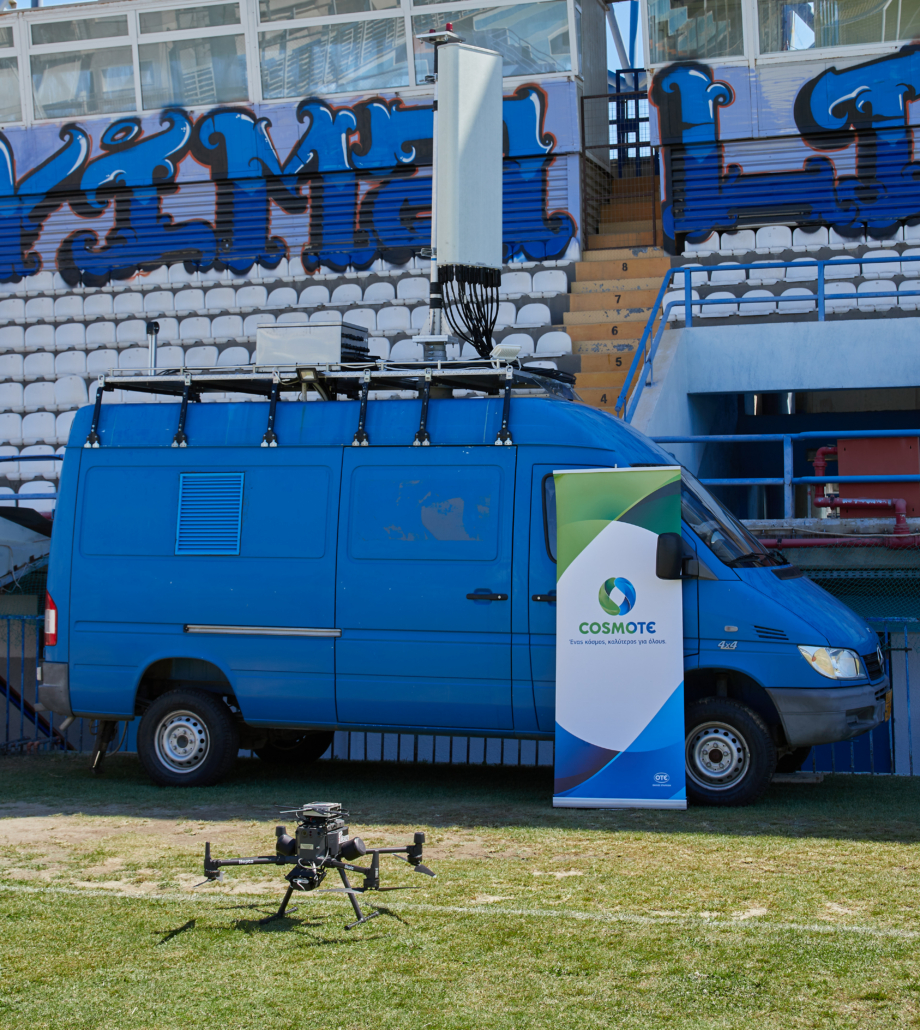 The project featured Network Slicing as the key component to simultaneously run the three types of UAV services on the same 5G infrastructure (including the RAN, back/fronthaul, Core), demonstrating that each UAV application ran independently and did not affect the performance of other UAV applications, while covering different 5G services. While considering verticals as the main users of 5G!Drones, the project built a software layer to automate the run of trials that exposed a high-level API to request the execution of a trial according to the scenario defined by the vertical, while enforcing the trial's scenario using the API exposed by the 5G facility, as well as the 5G!Drones enablers API deployed at the facility. Thus, 5G!Drones enabled abstracting all the low-level details to run the trials for a vertical and aimed at validating 5G KPIs to support several UAV use-cases via trials using a 5G shared infrastructure, showing that 5G supported the performance requirements of UAVs with several simultaneous UAV applications with different characteristics (eMBB, uRLLC, and mMTC). Using the obtained results, 5G!DRONES allowed the UAV association to make recommendations for further improvements on 5G.
The overall and ultimate objective of 5G!Drones was to design, implement, and run trials of UAV use cases on top of a 5G infrastructure provided by ICT-17 and other complementary facilities, addressing contemporary 5G challenges.
Trials at Municipality of Egaleo Stadium (Athens), Greece, 5-7 September 2022
The final trials of the project in Athens platform coordinated by NCSRD and took place on 5th – 7th September 2022. The trials technically supported by the following partners NCSRD, COS, INF, MoE, HEP, DRR, FRQ, UML and CAF realising the use case related to coverage extension of the 5G network utilizing a WiFi-6 hotspot 5G modem which was lifted-off by an automatically flying drone. The event was successful and the successful completion of the trials gave the green light to proceed to the showcasing event on 8th September. It is worth mentioning that the trials were supported by a 5G Van provided by COS in order to offer a pure quality 5G network for the needs of the trials.
https://skills2scale.eu/wp-content/uploads/2023/10/imgpsh_fullsize_anim2-scaled.jpg
1920
2560
tul_team
https://skills2scale.eu/wp-content/uploads/2023/06/S2S-logo-transparent-1.png
tul_team
2023-10-09 14:40:52
2023-10-10 17:32:35
Unmanned Aerial Vehicle Vertical Applications' Trials Leveraging Advanced 5G Facilities